"Everyone's Waiting On Me to Change" by Danny Hauger
You know I'm often surprised by the way you look,
How I stammered in speech, when my confidence broke.
Though I know its routine, I still get swept away,
In the smile and your shine, in the way you think.
Well I sharpened my wit,
To try to wisk you away,
If I fail I tomorrow, I might regret today.
So I soften my brow, and I lifted my eyes,
And you stayed and you sat down, to my surprise.
I know you, you don't know my name.
But everyone's waiting on me to change.
If I follow you, will you lead me astray?
Everyone's waiting on me to change.
There's a shop on Southwest Parkland Street,
Where the neon signs,
Stay on night and day,
There's a freeway,
A no-smoking sign,
And my guitar stands with me while I embibe.
I want you, but I was too late.
Everyone's waiting on you to change.
If this town is wrong, then I'd be your gate.
Everyone's waiting on you to change.
ANd I know. THis is our reply.
 There is no true path, for you and I
And I know, that I won't comply,
There couldn't be a mountain that I wouldn't climb.
I knew you, when you had it straight.
There was no problem you couldn't relate.
The past shook you, trembling under my feet.
But I think we've got something, no one will I break,
I think we've got something, no one will I break,
They may doubt, and say we're strange.
Everyone's waiting on us to change.
If we fall in love, then I'm plunging in.
Everyone's waiting on us to change.
--
Lyrics poured out today. Words flowed free and I was able to bottle some of the creativity into this song. Truthfully, the title and lyrics therein, I have played once a month or so for years, but never sat down to really write the whole song's concept. Today was the day! After maybe 5 years of knowing the melody. I was meaning to go record another song, but I guess that will be for another day. Enjoy, like, share, and subscribe!
Support my free music by downloading Danny Hauger music on iTunes (http://apple.co/2Dkn3P4), Amazon (http://amzn.to/2p3lmCe), or streaming me on Spotify (https://binged.it/2BrYySs)!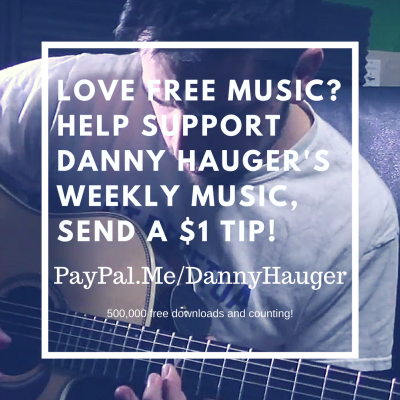 Help support my independent music and free weekly podcast downloads by sharing it with your friends. Your comments, likes, and shares help me keep this dream alive. I find my music is enjoyable for background, work, homework, and meditation too. I hope this adds enjoyment to your life and music collection!
You can support me by:
*Buying Danny Hauger music on iTunes and Amazon
*Streaming Danny Hauger on Spotify
*Subscribing Danny Hauger Podcasts on iTunes or download weekly free songs from Danny Hauger: https://dannyhauger.podbean.com/
*Share or buy my Teachers Pay Teachers resources: https://www.teacherspayteachers.com/Store/Haugerhistory
*Download my educational shows from the Hauger History Podcast at haugerhistory.podbean.com
*Support this free podcast and get in touch at www.dannyhauger.com
*Twitter: @DannyHauger and @DHXmusic
*Subscribe to this YouTube Channel!
Share
|
Download(

Loading

)