This clip taken live from AM 830, KLAA, to remember the life of Kyle Coumas, a high school classmate from Saint Mary's High School in Stockton. Kyle was killed in Afghanistan during combat.

From the LA Times, "Coumas died Oct. 21 in Kandahar province, Afghanistan, of wounds suffered when his vehicle was attacked by a roadside bomb, military officials announced. According the Associated Press, he is the 18th member of the 5th Stryker Brigade to be killed in Afghanistan since July when the brigade deployed."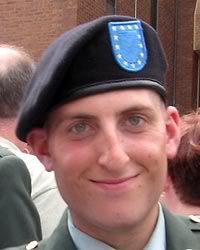 I am sorry you are gone so young, and I hope everyone will remember to value life and living, even if times are rough.