Anywhere Studio Acousticversion featuring the Seagull Artist Series CW Studio Element Guitar recorded 1/27/18 live in studio. I played all the instruments including guitar, bass, and cajon. I really love this song, from the "Together Now" album (available on iTunes - https://itunes.apple.com/us/album/together-now/1085649513)it has a lot of heart and I love performing it. I hope you will enjoy, share, and download free!
Anywhere by Danny Hauger (lyrics)
I heard you were leaving town,
So many years in so many boxes.
Do you ever think about the better times?
All of the happiness that had multiplied.
And where will you go?
Anywhere you go, I'm on my way.
Is there room in your memories?
To let a smile back in, can you still here me?
I feel that its something new, the way its always been.
If you decide to let go, and let yourself win.
Music in this channel is written, recorded, and produced by Danny Hauger. Support my free music by downloading Danny Hauger music on iTunes (http://apple.co/2Dkn3P4), Amazon (http://amzn.to/2p3lmCe), or streaming me on Spotify (https://binged.it/2BrYySs)!
Help support my independent music and free weekly podcast downloads by sharing it with your friends. Your comments, likes, and shares help me keep this dream alive. I find my music is enjoyable for background, work, homework, and meditation too. I hope this adds enjoyment to your life and music collection!
You can support me by:
*Buying Danny Hauger music on iTunes and Amazon
*Streaming Danny Hauger on Spotify
*Subscribing Danny Hauger Podcasts on iTunes or download weekly free songs from Danny Hauger: http://dannyhauger.podbean.com/
*Share or buy my Teachers Pay Teachers resources: https://www.teacherspayteachers.com/Store/Haugerhistory
*Download my educational shows from the Hauger History Podcast at haugerhistory.podbean.com
*Support this free podcast and get in touch at www.dannyhauger.com
*Twitter: @DannyHauger and @DHXmusic
*Subscribe to this YouTube Channel!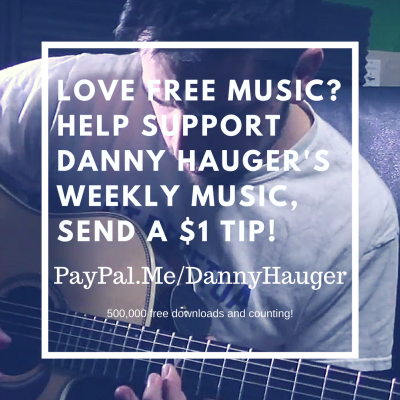 Help support my free music!
Share
|
Download(

Loading

)