"Real to Me" Music and Lyrics by Danny Hauger (free demo download!)
I've been living a life down here, that no wants to see.
I've been a living a dream down here,  II'm only gonna live for me
To the outsider it seems like I'm living outside
You go home to your wife and kids, and you try to find your pride
I'm holding out here so I can get a better deal,
You pay mortgage off while I go searching for something that's real to me.
Something real to me. Something real to me.
Think of all the opportunities I have never had.
Your ivy league parents are so proud but secretly so sad.
You gotta live right now, cause we only get one.
If you're going to waste it like you do, it may as well be done.
I'm holding on out here, so I can live my way.
I do whatever I want, I never count the days.  
So I can find something real to me. So I can have something real to me.
My music is free every week for studio demos, support me buy buying an album version!
Support my free music by downloading Danny Hauger music on iTunes (http://apple.co/2Dkn3P4), Amazon (http://amzn.to/2p3lmCe), or streaming me on Spotify (https://binged.it/2BrYySs)!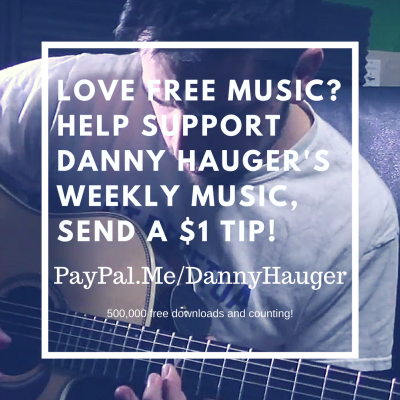 Help support my independent music and free weekly podcast downloads by sharing it with your friends. Your comments, likes, and shares help me keep this dream alive. I find my music is enjoyable for background, work, homework, and meditation too. I hope this adds enjoyment to your life and music collection!
You can support me by:
*Buying Danny Hauger music on iTunes and Amazon
*Streaming Danny Hauger on Spotify
*Subscribing Danny Hauger Podcasts on iTunes or download weekly free songs from Danny Hauger: https://dannyhauger.podbean.com/
*Share or buy my Teachers Pay Teachers resources: https://www.teacherspayteachers.com/Store/Haugerhistory
*Download my educational shows from the Hauger History Podcast at haugerhistory.podbean.com
*Support this free podcast and get in touch at www.dannyhauger.com
*Twitter: @DannyHauger and @DHXmusic
*Subscribe to this YouTube Channel!