"Elowen" is the 4th track of the "Cedar" Instrumental guitar series and the first practice session of the Seagull Artist Series CW Studio Element Guitar. The rhythm track is recorded direct in with no filters, and the lead line (which is quieter) is recorded with a Samson USB microphone, with no added gain, for a very natural unplugged tone. This way you can judge the sound of the guitar's pickup and natural sound.
It was recorded without editing, leaving the lead guitar a little low in the mix, but I find it gently soothing and let it sit as it was recorded for a more natural sound and a bit of dynamic contrast.
Music in this channel is written, recorded, and produced by Danny Hauger. Support my free music by downloading Danny Hauger music on iTunes (http://apple.co/2Dkn3P4), Amazon (http://amzn.to/2p3lmCe), or streaming me on Spotify (https://binged.it/2BrYySs)!
Help support my independent music and free weekly podcast downloads by sharing it with your friends. Your comments, likes, and shares help me keep this dream alive. I find my music is enjoyable for background, work, homework, and meditation too. I hope this adds enjoyment to your life and music collection!
You can support me by:
*Buying Danny Hauger music on iTunes and Amazon
*Streaming Danny Hauger on Spotify
*Subscribing Danny Hauger Podcasts on iTunes or download weekly free songs from Danny Hauger: https://dannyhauger.podbean.com/
*Share or buy my Teachers Pay Teachers resources: https://www.teacherspayteachers.com/Store/Haugerhistory
*Download my educational shows from the Hauger History Podcast at haugerhistory.podbean.com
*Support this free podcast and get in touch at www.dannyhauger.com
*Twitter: @DannyHauger and @DHXmusic
*Subscribe to this YouTube Channel!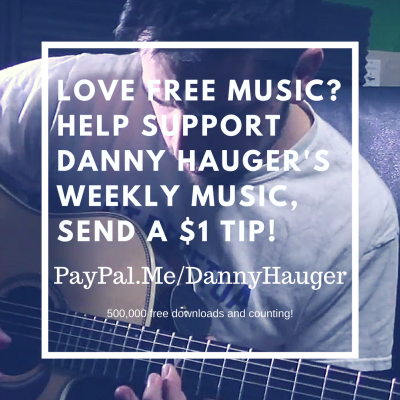 Help support my free music!